About Us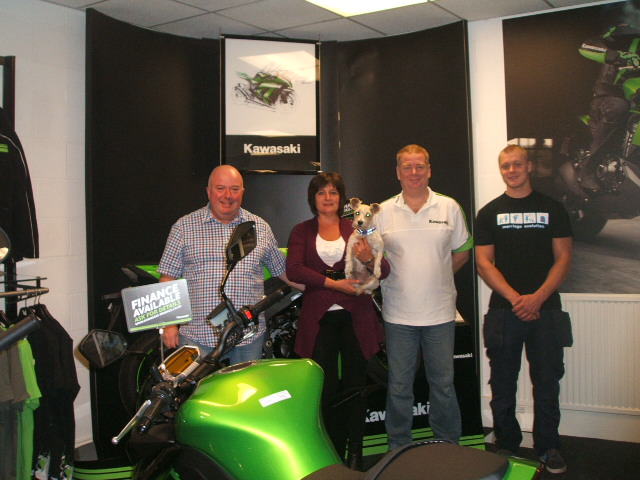 All of the team at Nottingham Kawasaki are bikers. Steve & Marilyn have worked their way through most of the iconic Kawasaki bikes of the 70's, 80's and 90's. The 70's S2-350, H1-500, H2-750 Triples and the Z1-900; the 80's GPZ100, Z750 Turbo and the GPZ900 Ninja & finally the 90's, ZXR400 and the ZXR750 models. Mark began riding in 1987 on a RD125LC before upgrading to the iconic RD350 YPVS. He has previously worked with Yamaha, Ducati and Suzuki before joining the team at HBC. Reece has joined the team from (the original) Clay Cross Motorcycles, which provides us with lots more recent Kawasaki And Victory experience. Ian our workshop Manager, has many years of technical experience with most makes of motorcycles and being and ex TT road racer he knows how to make them run perfectly.
At our Service Department we specialise in the Kawasaki, Suzuki, Indian, Victory and Peugeot ranges but we are also happy to service or repair any other make of motorcycle or scooter. As an NIG approved repairer we also do high quality insurance repairs, we can collect or deliver your bike.

We have a well equipped workshop with 3 workstations & a valeting area. Our technicians receive regular training from Kawasaki & have achieved awards in training programmes.
Servicing
Our Service Department provides servicing for the whole Kawasaki range and any other make of motorcycle or scooter.
Service Type Prices Starting from:
12 months interim, 2500 miles for bike under 125cc £85.00
24 months main, 2500 miles for bike under 125cc £115.00
12 months interim, 4000 miles for bike over 125cc £135.00
24 months main, 7500 miles for bike over 125cc £195.00
Servicing includes all parts and labour and includes a Free Vehicle Health Check.
Tyres / Balancing
Tyres fitted £24.00 per wheel if purchased from us.
Tyres fitted to loose wheel from us Free Fitting.
Ride in price, tyres fitted not from us £35.00 per wheel.
Diagnostic

Service Department Opening Times
Monday to Friday 8.30am – 5.00pm
Saturday 9.00am – 5.00pm
Sunday Closed

For more information contact the Service Department on 01158 370042.
All prices are plus VAT at the prevailing rate